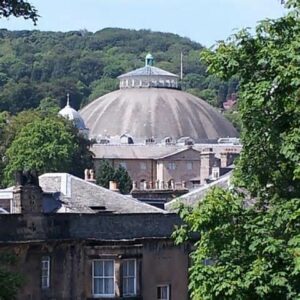 Buxton is next battleground for Archbishop's War on Wonga
The Archbishop of Canterbury's 'War on Wonga' comes to Buxton on September 30. The Church of England will hold a seminar at the University of Derby's Buxton Campus about the alternatives to expensive payday loans.
Payday loans – personified by TV advertising from high-profile companies like Wonga – are aimed at those in the most desperate need of credit but have such high interest rates that failing to pay them back can lead to ever deeper debt.
Interest rates for payday loans are typically 1,500 per cent APR. A credit card is only 18.9 per cent and payday lenders also impose high late payment interest and penalties if you fall behind.
But there is an alternative: credit unions, which are owned by their members and offer credit at more reasonable rates while promoting personal saving.
The Archbishop of Canterbury, Justin Welby, pledged to put payday lenders out of business in what the media dubbed his "War on Wonga" in 2013.
"Our faith in Christ calls on us to love the poor and vulnerable with our actions," the Archbishop says in a message on the Church of England website. "That is why the Church must be actively involved in supporting the development of real lending alternatives, such as credit unions."
Now the Derby Diocese is bringing the fight to the High Peak by inviting interested people from High Peak and the Derbyshire Dales to the University's Buxton Campus on September 30.
Run in partnership with colleagues from Financial Action and Advice Derbyshire, and with the support of the University of Derby , the free event will be chaired by Steve Fisher, of Churches Together in Buxton.
The event starts at 12.45pm will include short presentations from existing credit unions in Manchester and Derbyshire at 1pm, followed by a buffet lunch, along with displays and information stands.
Dr John Davies, the Dean of Derby, said: "The Archbishop of Canterbury has been very explicit in his support for credit unions; promoting them as bodies very well placed to help those in greatest need and at greatest risk. This event offers the chance to learn to save and be able to take out loans at affordable and safe rates of interest when needed. In the uncertainties of today's society, credit unions look vitally important."
The deadline to book is Wednesday, September 23.
To book, visit: http://www.eventbrite.co.uk/e/credit-unions-community-banking-for-all-tickets-17585393385?aff=es2 or call Rita Brierley on 01332 388684.
For details about the Church's campaign, go to www.toyourcredit.org.uk/#toyourcredit<http://www.toyourcredit.org.uk/#toyourcredit>
ENDS
NOTES TO EDITOR
http://www.derby.ac.uk/news/notes-to-media-editors
For further press information please contact:
John Phillips, University of Derby Buxton Community Liaison Officer Direct dial: 01298 330461
Email: j.phillips@derby.ac.uk<mailto:j.phillips@derby.ac.uk>