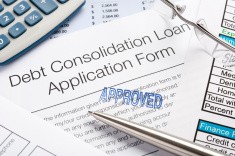 Debt consolidation loans are not the best option for everyone, so get some free, impartial advice first to see what options are available to you.
Consolidating debts usually involves taking out one large loan to pay off lots of existing smaller debts.
Most people do this to:
reduce the interest rate on their debt;
to bring down their monthly payment amount; or
to reduce the number of companies they owe money to.
Debt consolidation loans can be useful in some situations but for many it can involve extra costs, and potentially makes a difficult situation much worse. That's why it's best to get expert debt advice before taking out such a loan.
However if debt consolidation is the right option for you then we may be able to help with a debt consolidation personal loan.
We offer loans from as little as £100 right up to £3,000 with interest rates of 42.6% APR, subject to affordability and credit checks.
Features and Benefits:
Personal loans from as little as £100 up to a maximum of £3,000, unsecured
42.6% APR
Easy to apply and decisions within 2-3 days
No hidden charges or fees or early repayment penalties should you find yourself in the position of being able to clear your debt early
Repayments to suit you – weekly, fortnightly, four weekly or monthly
We can make payments direct to your creditors to clear your debt(s)
Criteria:
Up-to-date on any current or previous borrowing with Derbyshire Community Bank
No recent adverse credit history
You must have the disposable income to meet the loan repayments.
Important information:
Affordability and credit checks apply.
You must work or live in Derbyshire to be eligible to join the bank.